High-speed Injection Molding Machines
Description
Making full use of the accumulator, this high-speed injection molding machine is with high performance, fast speed and low cost. Moreover, it can reduce the machine circle time and enhance the operation efficiency, contributing a lot to excellent production of the ultrathin, precious and complicated products.
Features
1. Clamping Unit
In this high-speed injection molding machine, the clamping unit can move fast and steadily due to the new toggle mold locking device and advanced computer emulation with optimized toggle parameter.
2. Hydraulic Unit
The hydraulic unit is characteristic of high efficiency, low energy consumption and high precision regarding proportional pressure and flow. The variable displacement pump system makes output of the hydraulic system well match the required power for entire machine operation with the energy loss avoided.
3. Injection Unit
Injection unit of the high-speed injection molding machine is equipped with short and forceful double-cylinder. Besides, the fixed mold plate and screw assembly contribute to better plastification capacity and effect.
4. Control Unit
Control unit can be displayed in both Chinese and English. Operators can choose suitable language in this visual interface, which makes operation easier and convenient.
Types
1. High-Speed Injection Molding Machine for Thin Wall Production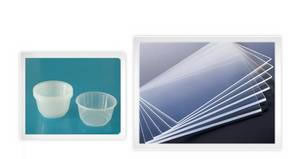 2. High-Speed Injection Molding Machine for Disposable Spoons and Containers