Select Model:
HXH250
HXH330
HXH400
Injection Molding Machine for Thin Wall Production
Introduction
We also supply plastic injection molding machines for thin wall production. This injection molding machine for thin wall is specially used for containers and other plastic products whose thickness is not too large. A specialist research&development department has been established in our company so that we can provide considerate services for technical solutions to clients.
Advantages
1. High Speed
Adopting high precision single cylinder injection system, this plastic injection molding machine is suitable for high speed injection with low-inertia and high response speed. It can produce thin wall products more efficiently. And the production cycle time becomes much shorter.
2. High Energy Saving
Compared with traditional machines, we use servo motor to save energy consumption and at the same time control the position more precise. The machine can save power around 30-70%.
3. High Safety
Plastic injection molding machine for thin wall comes with mechanical, hydraulic, electrical triple protection. Security module independent control ensures that there is no mistake during machine closing, injection, charging and nozzle forward.
Features
1. Innovative design of plasticizing system achieves low-temperature injection; it makes the machine energy-saving and environmental. Its plastic products are with high tenacity and toughness.
2. Advanced hydraulic system achieves low pressure injection; it makes the plastic injection molding machine gain better mechanical protection, have longer mould service life, and manufacture products with low stress and deformation.
3. Optimized control system achieves fast response speed; it makes the machine obtain higher shot rate in a short time (0.3 second).

Production instance: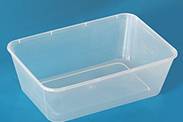 Product : 1000ml fast food container
Material: PP
Weight :17g
Thickness: 0.36mm
Cavity: 2 cavities
Cycle time: 4.5s
Suggest machine: HXM258H
Components of Plastic Injection Molding Machine
Clamping Unit
1. High-strength toggle clamp makes the clamping faster and reduces the deformation.
2. Hydraulic driven gear mould adjusting device can adjust the mould quickly and reliably.
3. Standard hydraulic protection device is provided.
Injection Unit
1. Innovative single cylinder injection platform, overcomes the out-sync defect during high speed injection and thus makes the injection more reliable.
2. High strength design for the support structure of injection platform ensures longtime & stable working of injection unit.
3. In this plastic injection molding machine, the injection speed can reach 300 to 400 mm/s
4. Optional for different screw/barrel units as per required.
Hydraulic System
1. Fast response of close-loop servo control hydraulic system can shorten the response time of the hydraulic pressure & flow. Besides, high precision of repeatability can be achieved.
2. The optimized design of hydraulic circuit lowers the loss of pressure and power. This makes the system working more efficient.
3. The precise bypass recycle filter insures the oil effect up to NAS8.
4. Imported hydraulic parts are from the famous brands, like GERMAN ECKERLE/ JAPANESE YUKEN/ NACHI etc.