Select Model:
HXF65
HXF98
HXF128
HXF158
HXF188
HXF218
HXF258
HXF298
HXF330-I
HXF330-II
HXF410-I
HXF410-II
HXF470-I
HXF470-II
HXF530-I
HXF530-II
HXF630-I
HXF630-II
HXF730-I
HXF730-II
HXF880
HXF1080
HXF1250
HXF1500
HXF2000
HXF2500
HXF Series Standard Injection Molding Machine
Description
HYSISON HXF horizontal injection molding machine is mainly composed of an injection unit, a clamping unit, a hydraulic part and control system. Controlled by computer, this precision injection molder adopts imported high quality components. It comes with features of good stability, long service time, favorable performance and capability of producing a majority of plastic products.
Components of Horizontal Injection Molding Machine
1. Injection Part
1. Double-guide pole and double cylinder balancing injection system
2. Screw pre-plasticizing device with high torque motor driving screw-bar
3. Computer PID for controlling charging barrel temperature
4. Storage back pressure adjustable system
5. Micro adjustment device for nozzle center aiming
6. Multi-level injection, pressure-keeping, speed and location control
7. Production function of screw cold start-up
8. Injection position scale control
9. Anti-skid aluminum patterns cover

2. Hydraulic Part of Horizontal Injection Molding Machine
The hydraulic unit consists of world famous brand oil pump and control valve with outstanding performance. It endows precision injection molder with features of high accuracy, high reliability and stability, long lifetime, low noise and environmental protection.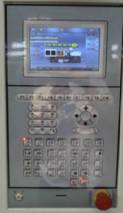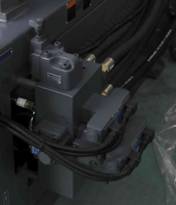 3. Clamping Unit of Horizontal Injection Molding Machine
1. 5 point double toggle system
2. Special pre-tensioning tie bar for reliable endurance
3. Mechanical and electrical safety devices
4. Hydraulic safety devices
5. Low pressure molding protection device
6. Multi stage molding open/close pressure and speed control
7. Multi-stage and multi-function hydraulic ejection control
8. Fast molding closing device
9. Mechanical positive molding open position device
10. Adjustable slide riding on hardened steel tracks to support the moving platen
11. Robust casting construction with lengthened tie bar guides for rigid support and platen alignment
12. Automatic mould height adjustment function for clamp tonnage setting up
13. Fixed platen on horizontal injection molding machine frame to allow oversize moulds to overhang the platen
14. Hollow spherical casting designed with finite element analysis (for maximum rigidity)
15. Toggle lubrication: automatic lube system with function monitor (oil pressure sensor and oil level sensor).
16. Frame with catch tray and guide channels (to collect surplus oil and keep machine frame clean).
17. Automatic toggle greasing system controlled by central lubrication device
18. Hardened steel pins and bushes
19. Safety covers: fixed cover on top of toggle set for safety and to keep toggle area clean of workshop dust
4. Injection Unit of Horizontal Injection Molding Machine
1. Twin cylinder balanced injection system
2. Multi-steps pressure, speed and time control for plasticizing
3. Injection cushion position monitoring function
4. Plasticizing cold start prevention function
5. Hopper slide
6. Purge guard with limit switch interlock
7. Injection unit anti-slip aluminum cover
8. PID Barrel temperature control device
9. Sunk back function
10. Screw plasticizing back pressure control function
11. Cooling water manifold
12. Multi stage injection hold pressure control
13. Multi stage injection pressure control
14. Nozzle centering alignment device
5. Control System of Horizontal Injection Molding Machine
1. Configured with imported hydraulic and electrical components of high quality
2. With eight or ten inch LCD color screen
3. Mold data storage function: 120 mold dates
4. Swivel mounted control panel
5. Control cabinet with cooling fans
6. Cabinet door fitted with combination door lock plus main isolator switch
7. Elevated warning lamp
8. PID barrel plus nozzle temperature control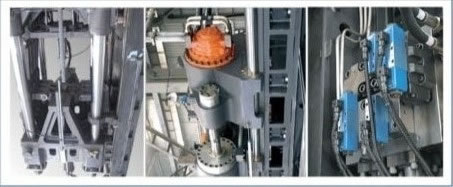 Parameters of Precision Injection Molder
Given so many models, we take HXF128 injection molding machine for example.
HXF 128 Horizontal Injection Molding Machine
Model: HX (*) 128/420
Technical Parameter Table
A
B
C
Injection Unit
Screw Diameter (mm)
35
38
42
Screw L/D Ratio (L/D)
23.8
22
19.9
Injection Capacity (Theoretical) (cm3)
192
226
277
Injection Weight (Ps) (g)
175
206
252
Injection Weight (Ps) (Oz)
6.1
7.2
8.8
Injection Pressure (MPa)
219
186
152
Injection Rate (g/s)
87
102
126
Plasticizing Capacity (g/s)
11
13
15
Screw Speed (rpm)
200
Clamping Unit
Clamp Force (Kn)
1280
Open Stroke (mm)
350
Max. Mould (mm)
450
Min. Mould (mm)
150
Space Between Tie-Bars (W × H) (mm)
410 * 370
Ejector Stroke (KN)
45
Ejector Force (KN)
120
Ejector Number (n)
5
Others
Pump Pressure (MPa)
16
Motor Power (Kw)
13/15
Heating Power (Kw)
10.5
Machine Dimension (L × W × H) (m)
4.41*1.2*1.89
Machine Weight (t)
3.2
OIL TANK CAPACITY(L)
235
Example: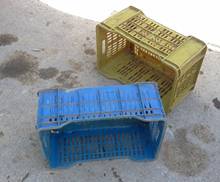 Product:
plastic crate
Dimension:
530mm X 350mm X 180mm
Weight:
1kg
Material:
HDPE
Suggest machine:
HXF526
Mold Plate Dimension: